Market trends can help you decide whether to sell your property, refinance to take advantage of reduced interest rates, or figure out how much equity you have in order to borrow against it for a renovation or other personal costs.
Getting an accurate assessment of your own property is even more crucial than knowing market trends and what comparable homes sold for. Please be aware that obtaining a house valuation is a complicated procedure that involves many variables that all contribute to calculating the value of your property.
How can I figure out how much my house is worth?
There are several methods for determining the worth of your home. Some of the best and most simple are:
Your decision will be based on your reasons for requesting a home appraisal such as:
If you simply need a ballpark estimate for your own records, a free house evaluation from an internet valuation service might suffice. If you want to refinance or sell your property, however, home valuation systems usually don't have enough information to produce an appropriate assessment.
If you want to use a home equity line of credit or a cash-out refinancing to access the equity in your house, your lender should almost certainly demand a third-party appraisal, which can cost you a few hundred dollars or more.
If you're thinking about selling your house, visiting a real estate agent is a cost-effective option because most real estate brokers include a comparative market analysis (CMA) in their services.
How does the online home value estimator from Powerupleads work?
Online calculation tools evaluate the worth of your house based on data you submit and information gathered from public records. Almost every online appraisal tool has its restrictions. They hardly assess your home's condition, renovations, or expansions. They can only rely on hard facts.
Is it possible to acquire a home valuation from an agency if I am not currently selling my property?
As part of their listing services, most real estate brokers supply you with a comparative market analysis (CMA). A complete CMA is a tool that should offer a professional assessment of your house and place it in perspective with comparable properties in the neighborhood as well as the current market. It sometimes surpasses 30 pages of extensive study.
Some agencies charge between $100 and $200 for a CMA. Many provide free services.
Factors that influence the estimated home value:
Location
The community, the roadway, the local school, and the view all have an influence on the appeal of your property. Homes near to parks and open spaces have an 8 percent to 20 percent higher value than comparable properties, according to study from the University of Washington. According to the National Association of Realtors (NAR), while shopping for a new house, 26% of recent homebuyers were affected by the quality of their school district.
Age
Everything becomes older. You have no control over when your house was built. Due to architectural elements missing in modern construction, an older property may be valued more in some situations. Age isn't always the most important factor. Condition is.
Supply & Demand
Your home's value will rise when supply is limited and demand is strong. When supply is high and demand is low, however, your home's value will drop.
Upgrades and improvements
Your home's value may be increased with the correct improvements, repairs, and remodeling. Homes with well-kept gardens, for example, are worth 1% to 10% more. Even small changes like new fixtures and paint may increase the value of a home.
The state of your residence
The better the state of your home, the higher the value. The number and severity of repairs necessary are used by evaluators to determine the condition of your house.
Your home's size and living space
You may add extra square footage to your house by adding an addition or renovating your basement or attic, as well as increasing its value. However, your basement's square footage may not offer as much worth as above-ground area and may not include in the total square footage of your property.
How does a cluttered home effect an appraisal?
Decor, portable things, and sanitation aren't meant to factor into an appraiser's decision to value your home. However, human nature comes in. Messy, unclean, or untidy residences might give off a "I do not really care" vibe, leading an appraiser to question if the property has been properly preserved.
Extreme clutter can obstruct an appraiser's access, severely impacting the appraisal findings.
What causes property values to increase or decrease over time?
Property prices change over time, as previously stated. This is due to a number of factors, including:
The situation of the economy tends to have a great impact on real estate value. Economic data such as the Gross Domestic Product, employment figures, industrial production, and the prices of different products are used to evaluate the economy. When the economy is slow, property values tend to fall, and when the economy is growing, home values rise.
Municipal laws specifying permissible uses for each region are defined as Zoning Regulations. Commercial, Residential, industrial and agricultural zoning are the most typical, although they can also be combined. Zoning rules can also limit the height of the building, restrict sound, and impose a variety of other restrictions, such as home density. A buyer's decision may be influenced by zoning restrictions.
Borrowers' interest rates fluctuate as the economy changes. When interest rates drop, buyers may borrow more money, which can lead to an increase in housing prices. When the interest rates go up, purchasing power falls, and housing prices tend to stagnate or fall.
Politics may have an influence on the economy, especially if the government encourages consumers to spend more money. This might take the form of lowering interest rates through legislation or tax incentives. The political leanings of a geographical region can have a great influence on real estate value.
Material costs and the supply chain
Housing expenses have risen due to growing costs and scarce supplies of wood, metals, aluminum, and other construction materials.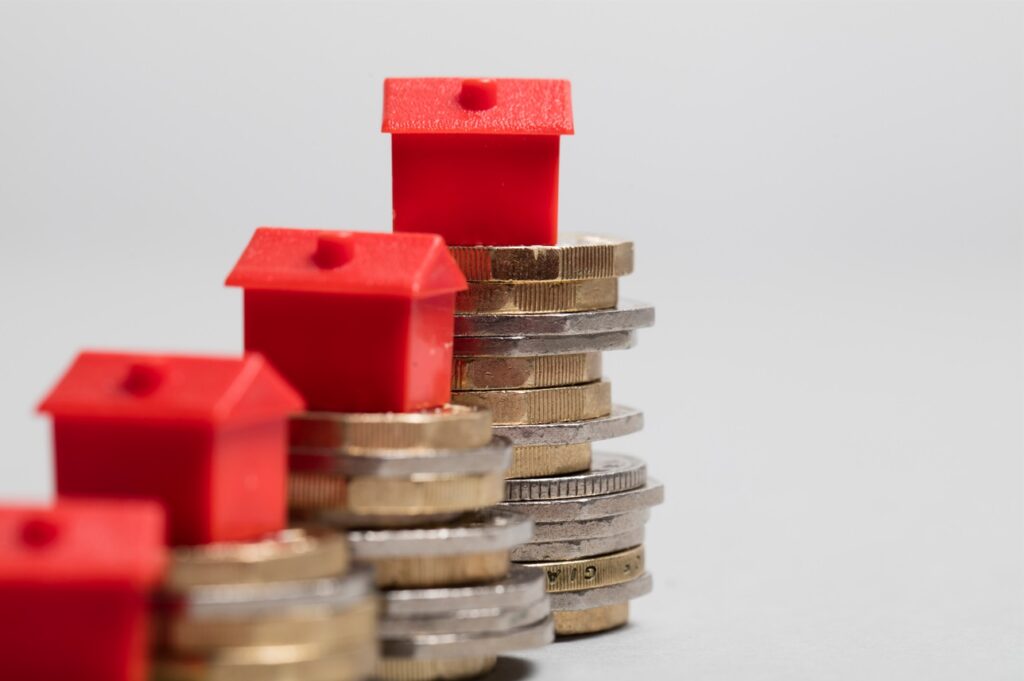 The most accurate formula for calculating the value of your property
by Using an online value tool, you can get a rough idea. Keep in mind that AVMs don't take into account renovations or modifications to your property or community, which reduces their accuracy.
The Powerupleads home value estimator is a good place to start for a quick valuation. For a more precise assessment of your home's worth, Powerupleads' HVE may refer you to a local top real estate agent who can prepare a CMA that provides a fairly accurate assessment of your home's value.
You may try to do the groundwork by yourself by reviewing public records, but we would recommend consulting an experienced agent who will have a better understanding of the neighborhood and homes in general, as well as better access to additional sources of information like the MLS.
Order an appraisal to get the most accurate valuation estimate for your house. A professional appraiser can provide you the most accurate estimate of your home's value.